Fake robot walker is fun
Read more at Boing Boing
Read more at Boing Boing
Read more at Boing Boing
---
In the latest Cool Tools newlsetter, Roger Knights reviews a book called "Vinegar: Over 400 Various, Versatile, and Very Good Uses You've Probably Never Thought Of." Sample recommendations:
Make creamy scrambled eggs: as eggs thicken when scrambling, add a tablespoon of vinegar for every two eggs.
---
Consumer Reports has launched a new online video series that plays TV commercials for prescription drugs, inserting information that the manufacturers forgot to include.
---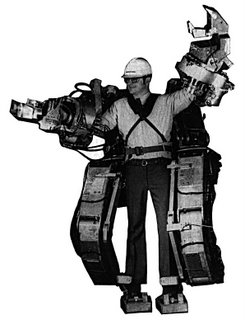 BB pal Susannah Breslin has published a new short story called The Hardyman, about a guy who restores a robot suit and meets a lady.