Kindle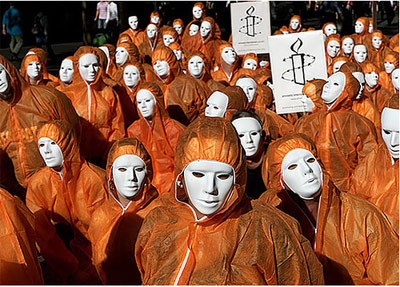 Today, Friday, January 11th is the sixth anniversary of the opening of the US prison at Guantánamo Bay. The ACLU and a number of other organizations asked members today to "wear orange to protest this stain on America's reputation." Snip:
Closing the prison and ending torture and indefinite detention without charge is a first step towards restoring our reputation in the world.
80 people in Gitmo-style orange jumpsuits were arrested today at the US Supreme Court, in a protest calling for the prison's closure:
Link
. Other similar protests organized by Amnesty International took place in other world capitals.
There were also protests in Second Life: Link to screengrab-set by Taran Rampersad.
(image: Matthew Good).
Boing Boing editor/partner and tech culture journalist Xeni Jardin hosts and produces Boing Boing's in-flight TV channel on Virgin America airlines (#10 on the dial), and writes about living with breast cancer. Diagnosed in 2011. @xeni on Twitter. email: xeni@boingboing.net.
More at Boing Boing