Kindle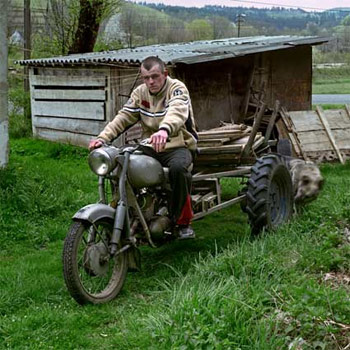 We Make Money Not Art has a post up about DIY tractors in rural Poland, photographed by Łukasz SkÄ…pski. Żak Gallery in Berlin is currently showing prints of SkÄ…pski's photos, and there's video of interviews with the farmer-tinkerers circulating somewhere, too. Snip:
In the '60s Poland it was almost impossible to acquire a tractor in Poland. Agricultural machines produced by the country were available mainly for state-owned enterprises. For private farmers these tractors were too expensive and they weren't even robust or efficient enough for the mountain region. Out of necessity they constructed their own machines using spare parts and bits and pieces from whatever machines they could find. Including decommissioned army vehicles and pre-WWI German machines.
Link
.
Boing Boing editor/partner and tech culture journalist Xeni Jardin hosts and produces Boing Boing's in-flight TV channel on Virgin America airlines (#10 on the dial), and writes about living with breast cancer. Diagnosed in 2011. @xeni on Twitter. email: xeni@boingboing.net.
More at Boing Boing