Kindle
A Greenpeace activist was recently arrested for protesting in front of the US Department of the Interior while wearing an awesome polar bear suit. He was trying to draw attention to the Bush Administration's delay in issuing a final Endangered Species Act listing for the polar bear due to global warming. Link to Greenpeace blog post.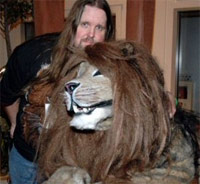 But guess who made the costume? The exceedingly talented artisan Lionel, whose work was featured in two Boing Boing tv episodes about furries:
* American Furry #1: Life, Liberty, and the Fursuit of Happiness.
* American Furry #2.
... and in this Boing Boing post about how to make an Animatronic Lion Mask with stereo night vision and amplified hearing.
Lionel named this polar bear suit prototype "Snowshine." (thanks, Marianne Shaneen!)
Boing Boing editor/partner and tech culture journalist Xeni Jardin hosts and produces Boing Boing's in-flight TV channel on Virgin America airlines (#10 on the dial), and writes about living with breast cancer. Diagnosed in 2011. @xeni on Twitter. email: xeni@boingboing.net.
More at Boing Boing