Kindle
Nicholas from
Miro
says,
This is pretty unbelievable--- there was an FCC hearing about Net Neutrality in Harvard yesterday where we had a booth. Comcast was PAYING PEOPLE TO FILL UP SEATS AND CHEER FOR THEM. Tons of folks, including reporters, got turned away. For people that still have a hard time wrapping their heads around what net neutrality is, this about sums up what's happening.

And it's well documented.

Our very own Dean Jansen was there, check out this nice graphic he made.
Update: Dean Jansen says,
Comcast admits to paying non-comcast employees to hold spaces! Here is our blog post (includes embedded audio player and photos). Portfolio's story/update is here.
Dean's blog post says "They were identifiable by their yellow highlighters." Well, yeah, that and their DEVIL EYES.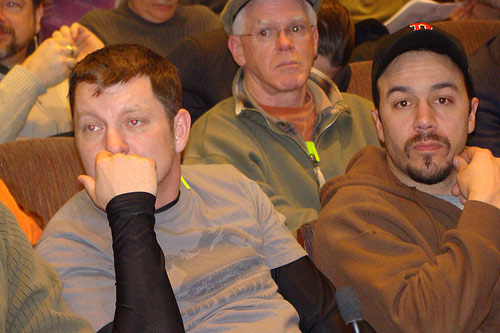 Boing Boing editor/partner and tech culture journalist Xeni Jardin hosts and produces Boing Boing's in-flight TV channel on Virgin America airlines (#10 on the dial), and writes about living with breast cancer. Diagnosed in 2011. @xeni on Twitter. email: xeni@boingboing.net.
More at Boing Boing