Pac Man cake with cupcake ghosts
Read more at Boing Boing
Read more at Boing Boing
Read more at Boing Boing
---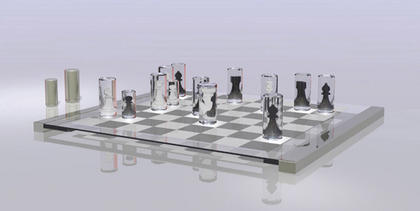 Yasmine Sethi, a final year student at Central Saint Martins College of Art and Design. designed this Alice Chess Set inspired by Through the Looking Glass.
---
Glyn sez, The Open Rights Group's report into e-counting of votes cast in the London Elections is out today. The report finds that:
"there is insufficient evidence available to allow independent observers to state reliably whether the results declared in the May 2008 elections for the Mayor of London and the London Assembly are an accurate representation of voters' intentions."
Votes for London Mayor and the 25 member London Assembly were counted electronically, and overall the election was well-managed by the independent body set up to run elections in London, London Elects.
---
The Buzzball is a human-sized, motorized hamster ball. Laughing Squid has more info and a video. Looks like great fun! Buzzball (Laughing Squid) Previously on BB: • Woman lives like hamster