Kindle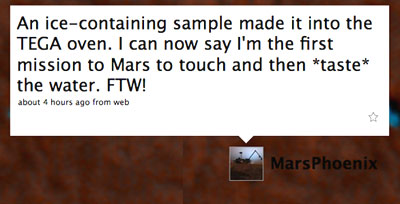 NASA confirms, beyond any earthly doubt, that water really really really does exist on Mars.
Laboratory tests aboard NASA's Phoenix Mars Lander have identified water in a soil sample. The lander's robotic arm delivered the sample Wednesday to an instrument that identifies vapors produced by the heating of samples.

"We have water," said William Boynton of the University of Arizona, lead scientist for the Thermal and Evolved-Gas Analyzer, or TEGA. "We've seen evidence for this water ice before in observations by the Mars Odyssey orbiter and in disappearing chunks observed by Phoenix last month, but this is the first time Martian water has been touched and tasted."
NASA Spacecraft Confirms Martian Water, Mission Extended
(nasa.gov).
I've also been enjoying the cheerful tweets of the Mars Rover, where I first heard this news. The future is pretty terrific, you know? And it's here.
Boing Boing editor/partner and tech culture journalist Xeni Jardin hosts and produces Boing Boing's in-flight TV channel on Virgin America airlines (#10 on the dial), and writes about living with breast cancer. Diagnosed in 2011. @xeni on Twitter. email: xeni@boingboing.net.
More at Boing Boing