Mad Magazine on Sarah Palin
Read more at Boing Boing
Read more at Boing Boing
Read more at Boing Boing
---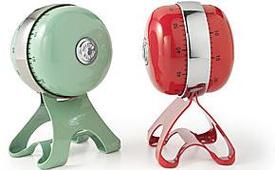 The Twice as Nice Double Timer is a great-looking and practical little gizmo: Now, were you supposed to boil the pasta for 10 minutes and simmer the sauce for 30?
---
Fraske Design's got a great, simple tutorial for making your own Tetris brownies for hours of fun and pounds of flab: Since I made these brownies thinner than normal, I also cut down the baking time.
---
Today on TokyoMango, I wrote about a newly found stack of Occupation-era letters written by an American woman in 1940s Japan; a robot that will help you find cool t-shirts at Uniqlo; and a guitarist from a famous heavy metal band who now lives in Japan. I also celebrated my blog's two-year anniversary and revisited some of my first blog posts ever.