Kindle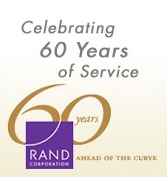 Last year, UK journalist and fringe explorer
Ken Hollings
produced a fascinating radio documentary on the history of the RAND Corporation, the prototypical think tank that began sixty years ago essentially as a research arm for the US military. RAND has counted an amazing array of big thinkers as affiliates over the last 60 years, including John von Neumann, Margaret Mead, Kenneth Arrow, and Paul Baran, who invented packet switching. In 1968, Baran and other researchers wanted to take their future forecasting methodologies out of the classified realm and so formed
Institute for the Future
, the non-profit thinktank where I'm fortunate enough to work as a researcher. Hollings's book,
Welcome To Mars: Science and the American Century, 1947-1959
, is forthcoming from
Strange Attractor Press
.
RAND: All Your Tomorrows Today
(speechification.com, thanks Mark Pilkington!)
David Pescovitz is Boing Boing's co-editor/managing partner. He's also a research director at Institute for the Future. On Instagram, he's @pesco.
More at Boing Boing