Kindle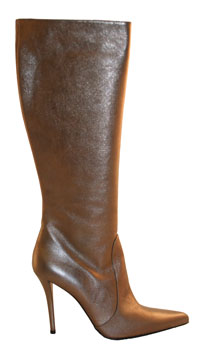 These heels, shown at left, were made for a dude. Speaking selfishly and subjectively, I am not entirely sure how I would personally feel about the idea of high heels on a dude who was the potential object of my own affection. But I suppose it depends on the dude. If it were, say,
Noel Fielding from the Mighty Boosh
, i would not flinch or reach for the emergency pair of Converse, stashed by the door for just such a crisis -- no, I would swoon ever more swoonfully. Anyway,
Susannah Breslin
points us to these kickers by Stuart Weitzman, crafted for a certain glam-rock star, and
here is a blog post about them
.
Boing Boing editor/partner and tech culture journalist Xeni Jardin hosts and produces Boing Boing's in-flight TV channel on Virgin America airlines (#10 on the dial), and writes about living with breast cancer. Diagnosed in 2011. @xeni on Twitter. email: xeni@boingboing.net.
More at Boing Boing