Megan plays "You and I" on ukulele
Read more at Boing Boing
Read more at Boing Boing
Read more at Boing Boing
---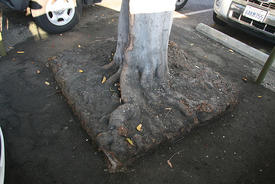 In addition to Pi day (3/14), we're also in the middle of Square Root Day! Square root day is held on the date that both the day and the month are both a square root of the last two digits of the year; so this year it's March 3rd, 2009 (3/3/09).
---
This a lifesize inflatable Trans-Am created by transmedia installation artist Guy Overfelt. The unusual object will be on display at "oh, Maybe..." an Emeryville, California art exhibition staged in conjunction with the de Young Museum's Warhol Live exhibition.
---
This pink dolphin has been hanging around an estuary in Louisiana. From The Telegraph: Regina Asmutis-Silvia, senior biologist with the Whale and Dolphin Conservation Society, said: "I have never seen a dolphin coloured in this way in all my career.