Harry Potter: Zionist Conspiracy to Promote Witchcraft and Satanism???
Read more at Boing Boing
Read more at Boing Boing
Read more at Boing Boing
---
Here's a nice homage to the Gilbert U-238 Atomic Energy Lab, from the early 1950s. This was the most elaborate Atomic Energy educational set ever produced, but it was only only available from 1951 to 1952.
---
Richard Metzger is Boing Boing's current guest blogger.
"There is no group more mythical than Faust." --Julian Cope.
Along with Can and Kraftwerk, art rock terrorists Faust are the prime exemplars of German rock music or "Krautrock." Until recently I'd never seen any film footage of them playing live in their early 70s prime, but someone kind uploaded this amazing clip to YouTube.
---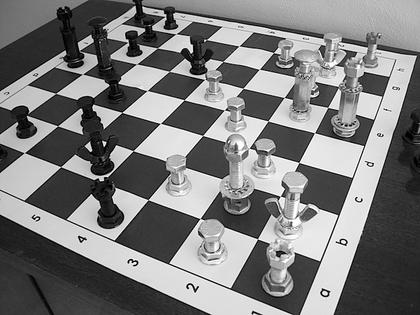 Makeblog has the story of Julia Suits's stupendous hardware-store chessmen made from nuts, bolts and flanges. I like chess sets more than I like chess -- I've always made them out of bits and pieces, but it never occurred to me to try nuts and bolts (though we've blogged a similar set before, I think this one's nicer).