Kindle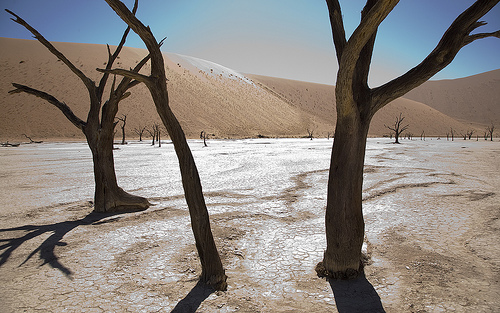 (Photo: a cc-licensed snapshot from Namibia by Flickr user Waterwin.)
Snip from a NYT article about a new study by a group of geneticists which pins the origin of humankind to a spot on the coast of southwest Africa near the Kalahari Desert. The study is said to be the largest ever of its kind on African genetic diversity. The researchers say Africans are descended from 14 ancestral populations that typically correlate with language and cultural groups.
Locations for the Garden of Eden have been offered many times before, but seldom in the somewhat inhospitable borderland where Angola and Namibia meet.

A new genetic survey of people in Africa, the largest of its kind, suggests, however, that the region in southwest Africa seems, on the present evidence, to be the origin of modern humans. The authors have also identified some 14 ancestral populations.

The new data goes far toward equalizing the genetic picture of the world, given that most genetic information has come from European and Asian populations. But because it comes from Africa, the continent on which the human lineage evolved, it also sheds light on the origins of human life.
The research team was led by
Sarah A. Tishkoff
of the University of Pennsylvania, and reported in in a recent issue of
Science
: "
The Genetic Structure and History of Africans and African Americans
."
(via Ned Sublette)
Boing Boing editor/partner and tech culture journalist Xeni Jardin hosts and produces Boing Boing's in-flight TV channel on Virgin America airlines (#10 on the dial), and writes about living with breast cancer. Diagnosed in 2011. @xeni on Twitter. email: xeni@boingboing.net.
More at Boing Boing