Super Mario fingernails
Read more at Boing Boing
Read more at Boing Boing
Read more at Boing Boing
---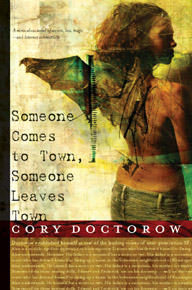 36 weeks ago -- give or take -- I set out to read my 2005 novel Someone Comes to Town, Someone Leaves Town aloud, in installments, in my podcast.
---
In LA's Koreatown district, two dueling billboards over on Wilshire Boulevard. Two enter, one leaves. Guess which?
At left, Consumer Watchdog's ad, arguing that you can't trust Mercury Insurance.