Kindle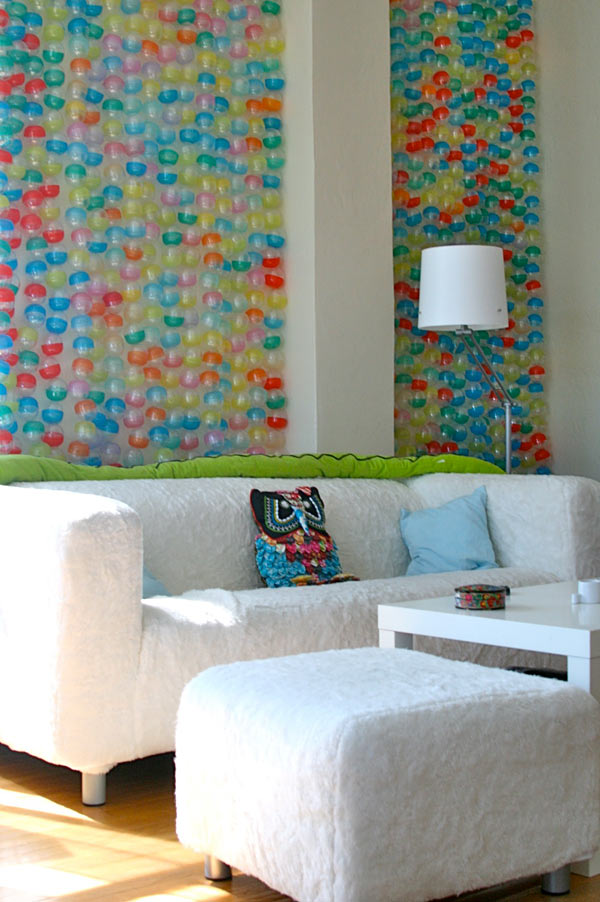 This is brilliant! Wall covering crafted from those little vending machine plastic bubble capsules toys are sold in:
One Saturday, B and I went to the always-wonderful East Bay Depot for Creative Reuse for some possible visual inspiration. Wandering amid aisles of castaway curiosities and recycled objects, we found three boxes filled with hundreds of discarded brightly-colored plastic toy capsules, the kind you'd see in 25-cent vending machines, clear orbs with tiny trinkets inside. They were too much fun to pass up. We bought the entire lot of them, and brought them home. Each of the capsules had holes drilled through the top and bottom, like a giant bead. We hit on the idea of stringing them together as a wall hanging, using heavyweight fishing line and hanging them in rows from the top of the picture moulding in the living room. I ordered a economy-size box of picture hangers from a framing supply store, and the project was ready to go.
(Totally landlord-compliant) bubbly wall art made from recycled toy capsules
(erikaceous.org, photo courtesy erikaceous / via Ethan Persoff)
Boing Boing editor/partner and tech culture journalist Xeni Jardin hosts and produces Boing Boing's in-flight TV channel on Virgin America airlines (#10 on the dial), and writes about living with breast cancer. Diagnosed in 2011. @xeni on Twitter. email: xeni@boingboing.net.
More at Boing Boing