Kindle

[Image courtesy General Atomics. An artist's rendition of Predator B, the unmanned aerial drone patrolling the US-Mexico border for human and drug trafficking, and other threats.]
Beginning this Wednesday, the entire 2,000 miles of border between the United States and Mexico will be patrolled by unmanned aerial drones. Three drones are already patrolling portions of that border, and a fourth Predator begins operations tomorrow out of Corpus Christi, TX, completing the full stretch of la frontera.
The news came in a Department of Homeland Security announcement yesterday, along with word that 1,200 additional National Guard troops will be deployed "to provide intelligence surveillance and reconnaissance, and immediate support to counternarcotics enforcement."
Those Predator B drones are made by military contractor General Atomics. You can read more about the drone specs here at the General Atomics website, and download a PDF here. Snip from Reuters:
They carry equipment including sophisticated day and night vision cameras that operators use to detect drug and human smugglers, and can stay aloft for up to 30 hours at a time.
All of this is part of $600 million legislation signed by President Obama earlier this month to increase border security before midterm elections in November, and in response to the ever-escalating drug war in Mexico. Just today, at least
8 people were killed when attackers hurled Molotov cocktails
into a bar in Cancun, a popular tourist destination. The attack is presumed to be cartel-related.
And a major drug kingpin nicknamed "The Barbie" for his light complexion was arrested this week— his takedown is seen as a badly-needed public relations coup for the Mexican government, as successive waves of horrific news hit the country.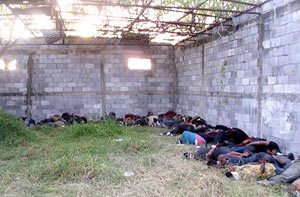 Perhaps the most gruesome of those recent revelations was the discovery just last week of a mass grave filled with 72 murdered migrants, including a pregnant woman, who were all executed by a dominant cartel, the Zetas.
The incident took place just 100 miles from the US border.
From the Christian Science Monitor:
The massacre confirmed what analysts have begun to suspect (....) gangs are diversifying their criminal activities and targeting groups other than just rival drug traffickers.
The
lead investigator in that case "disappeared" last Friday
.
[inset thumbnail: courtesy El Universal. The corprses of 72 men and women presumed to have been executed by the Zetas drug gang, inside an abandoned warehouse in the town of San Fernando, just 100 miles from the Mexican border with the U.S. near the city of Matamoros, Mexico.]
Boing Boing editor/partner and tech culture journalist Xeni Jardin hosts and produces Boing Boing's in-flight TV channel on Virgin America airlines (#10 on the dial), and writes about living with breast cancer. Diagnosed in 2011. @xeni on Twitter. email: xeni@boingboing.net.
More at Boing Boing