Kindle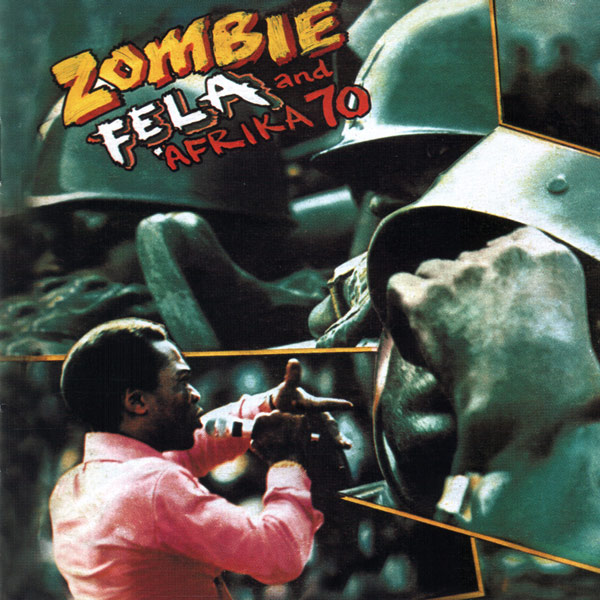 Knitting Factory Records this week released a third set of Fela reissues in an ongoing series. The portion out this week is titled Zombie, after Fela's well-known track of the same name, which you can download here as an MP4. Seriously, it's okay, we have permission! Go on and download that classic afrofunky track!
This set includes material originally released from 1976 through 1980.
This period of Fela's storied career saw his Kalakuta Republic increasingly under siege from the Nigerian government, and the clear rise of his vitriol as it fermented into scathing musical diatribes. (...)

Tracks such as "Authority Stealing" and the international hit "Zombie" are great examples of Fela's unfiltered outpouring of raw anger towards the oppressive Nigerian government. Interestingly, the 1976 album Upside Down features the vocals of Sandra Isadore - the American woman who introduced Fela to the Black Power Movement. Music Of Many Colours is collaboration with American vibraphonist Roy Ayers.
I would add that significantly, it was during this same period that Fela's Kalakuta Republic compound burned to the ground (February 18, 1977) after a thousand armed soldiers attacked its residents. During that assault, Fela's mother was thrown from a window by soldiers. She fell into a coma, and died two months later.
The titles that are being released are: Zombie (1976), Upside Down (1976), Music of Many Colours (1980), Stalemate (1977), Fear Not For Man (1977), Opposite People (1977), Sorrow, Tears and Blood (1977), Shuffering & Shmiling (1978), No Agreement (1977), V.I.P. (1979), Authority Stealing (1980).
Here's more about the Zombie set. Amazon: Album on MP3, or CD.
Read more in Music at Boing Boing
Boing Boing editor/partner and tech culture journalist Xeni Jardin hosts and produces Boing Boing's in-flight TV channel on Virgin America airlines (#10 on the dial), and writes about living with breast cancer. Diagnosed in 2011. @xeni on Twitter. email: xeni@boingboing.net.
More at Boing Boing