Kindle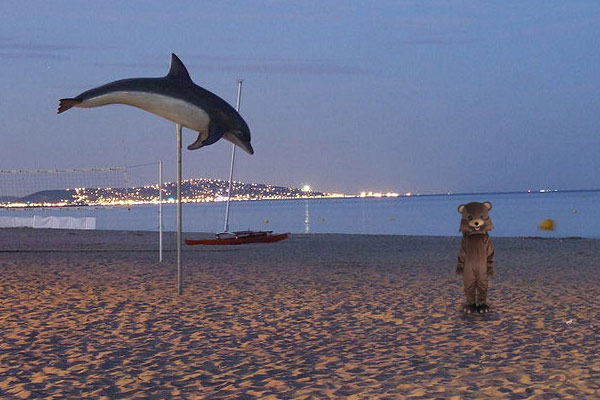 A Nudist Beach at Cap d'Agde, France (Wikipedia).
The nudist holiday getaway of Cap d'Agde, on France's Languedoc coast, has become ground zero in a war between two factions of the clothing-free: "traditional" naturists, and free sex advocates or "libertines." All hell broke loose at a "naked city" town council meeting this week. From the UK Independent:
Old-fashioned naturists have been complaining for years that Cap d'Agde's once-sedate nudist quarter has been disfigured by an influx of partner-swapping clubs and raunchy hotels. A flurry of arson attacks on sex clubs two years ago was blamed on low-level terrorism by nudist fundamentalists.
Oh, but on the other side? They're no innocents either,
mon frere
. Another snip from the
Independent
article, this part attributed to Deirdre Morrissey—a journalist with the
Irish Independent
who "sampled the nightlife" and found the libertines to be pretty pushy:
"Over our après-dinner cappuccino, we were a little surprised to see a buffed-up guy dressed in a police uniform mincing around the seating area of the restaurant bothering the patrons. [He ended by] thrusting his naked bits at a pair of female diners, like some sort of bizarre, hedonistic digestif."

Mr d'Ettore said yesterday that he would consider the complaints but had already done all he could to keep the two tribes from each other's throats. By-laws had been passed to ban minors from the raunchier establishments. The protesters were not necessarily representative, he said. There had been no formal complaints this summer.
Nudists fight for bare essentials as swingers invade holiday colony
(Independent.co.uk)
(Nudism brochure scan from the Flickr stream of "A Journey Round My Skull.")
Boing Boing editor/partner and tech culture journalist Xeni Jardin hosts and produces Boing Boing's in-flight TV channel on Virgin America airlines (#10 on the dial), and writes about living with breast cancer. Diagnosed in 2011. @xeni on Twitter. email: xeni@boingboing.net.
More at Boing Boing