Obama says, "Don't touch my junk"
Read more at Boing Boing
Read more at Boing Boing
Read more at Boing Boing
---
17 years ago, Internet radio pioneer (and future rogue archivist) Carl Malamud and search engine inventor (and future Internet Archive founder) Brewster Kahle appeared on an historic segment of NPR's Science Friday to talk with Ira Flatow about the amazing future of the Internet.
---
Missed in the brouhaha over Sarah Palin's verbal flub about our North Korean "allies," and much more telling:
According to host Glenn Beck's own transcript, Beck's very next utterance was to proclaim that the "mystery" jet contrail recently seen in California (explained weeks ago (even by Fox News online) as almost certainly an optical illusion created by still air and a jet contrail from a known UPS delivery flight) was in fact a secret two-stage missile launch by the Chinese government to assert their power over America, "sending a signal that the world has changed."
Beck then went on to state that the Chinese "control the world."
Did Sarah Palin, would-be leader of the United States, disagree with any of this?
---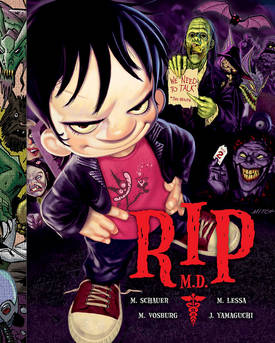 Freakazoid producer Mitch Schauer's debut graphic novel RIP M.D. is a warm and spooky tale for monster kids of all ages.