Kindle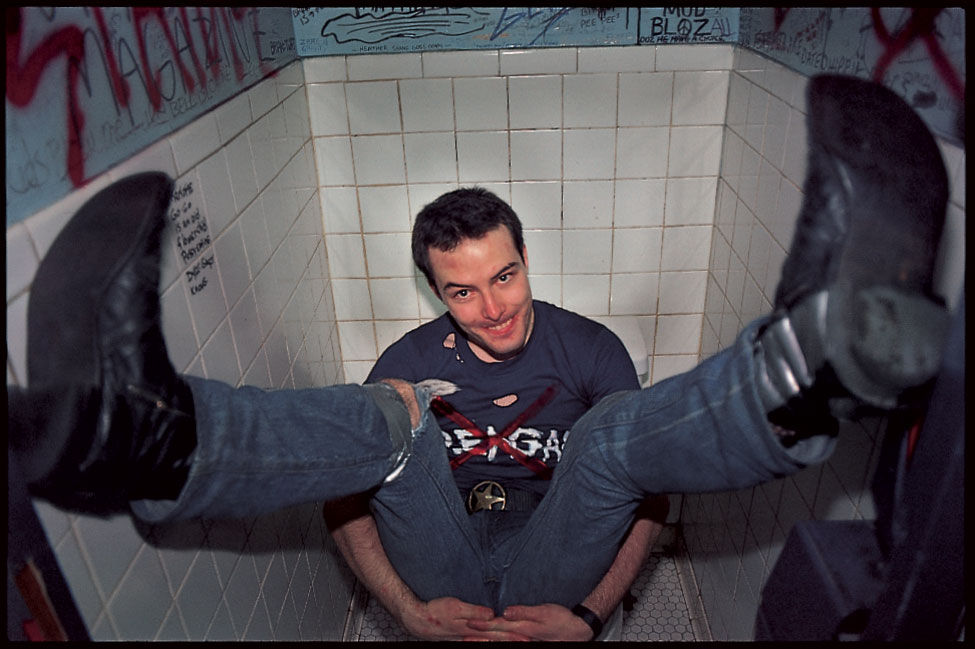 Jello Biafra of the Dead Kennedys
with his home made anti-Reagan t-shirt, circa 1980, shot at the backstage toilet at The Whiskey-A-Go-Go, Hollywood, California, by Glen E. Friedman.
Opening tonight at Shepard Fairey's Subliminal Projects gallery in Echo Park, Los Angeles, "Too Fast to Live, Too Young to Die," a retrospective of punk/hardcore photography and related art, featuring Edward Colver, Shepard Fairey, Glen E. Friedman, Jenny Lens, Dave Markey, Raymond Pettibon, Jordan Schwartz, and Winston Smith.
[A] selection of photography, art and ephemera from the California Punk & Hardcore scene with an emphasis on the explosive period of the late 70's and early 80's. This exhibition features both photographers and artists who were present for the detonation of the Southern California scene and whose imagery helped capture and craft it's angles, attitudes, music, fashion and sub-culture. Reflections of other punk scenes throughout California are included as well as contemporary collaborations inspired by one of the most potent and important periods of free expression in the California story.
Opens tonight, Friday, February 25th, 2011 7-11PM, with a musical performance by OFF! and The Nichemakers at 9PM.
The exhibition continues through March 26th, 2011, and is curated by Katherine B. Cone and Jon Cournoyer. Press release (PDF)
Read more in Music at Boing Boing
Boing Boing editor/partner and tech culture journalist Xeni Jardin hosts and produces Boing Boing's in-flight TV channel on Virgin America airlines (#10 on the dial), and writes about living with breast cancer. Diagnosed in 2011. @xeni on Twitter. email: xeni@boingboing.net.
More at Boing Boing