Charlie Sheen rant gets Taiwanese animated TV news treatment
Read more at Boing Boing
Read more at Boing Boing
Read more at Boing Boing
---
"Mystery Machine AT-AT" is one in a series of pop-culture AT-AT redesigns from Seven_Hundred; others in the series include the Dukes of Hazzard's General Lee and Quentin Tarantino's "Pussy Wagon."
Mystery Machine AT-AT (via Boing Boing Flickr Pool) Boing Boing: Todd Lappin's mystery machine Zombie/Scooby Doo mashup illo - Boing Boing Imperial Scott Walker, the worker-hating AT-AT Destroyer - Boing Boing Secret lives of AT-ATs - Boing Boing Star Wars: Evolution of the AT-AT t-shirt - Boing Boing AT-AT walker made from scrap computer parts - Boing Boing AT-AT jungle gym from a lost and golden age - Boing Boing
---
Last week I was excited to announce the birth of Coffee Common, a project of coffee enthusiasts (one of them being me) coming together to improve the experience of coffee for both industry and consumers.
---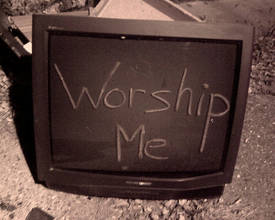 "Piracy is the Future of Television" is Abigail De Kosnik's Convergence Culture Consortium paper on the many ways in which piracy is preferable to buying legitimate online TV options.