Definition of Hell
Read more at Boing Boing
Read more at Boing Boing
Read more at Boing Boing
---
(Photo: I co-hosted one of the previous year's Yuri's Night events, in Houston. It was a blast. Plastered cosmonauts plastered me with Yuri Gagarin stick-on tattoos.)
The folks behind Yuri's Night, an annual global space party that celebrates peace through space exploration, are looking for your creative help to design an awesome new ad campaign to get people to care about space.
---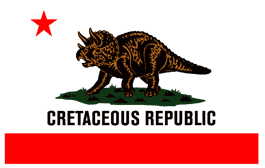 The Cretaceous Republic shirt is billed as "California's State Flag from 100 million years ago."
Cretaceous Republic (via Super Punch) Time Travel Cheatsheat - Boing Boing Vivid fried egg tee - Boing Boing When 2 dinosaurs become 1 - Boing Boing Huge fanged mouth hoodies - Boing Boing Science! tees for the scientist in you - Boing Boing
---
This is not a special-effects still from an upcoming movie. Instead, it's a photo taken at Nyiragongo Volcano in the Democratic Republic of the Congo.