Map Hat
Read more at Boing Boing
Read more at Boing Boing
Read more at Boing Boing
---
For the past two months, the "space advocacy" nonprofit Yuri's Night has been receiving hundreds of space-themed videos, photos, and PSA concepts from around the world, for a series of contests with cool space prizes.
---
Cold cuts are pretty much delicious little hostels for listeria—a bacteria that can cause serious food poisoning, and even kill vulnerable populations like babies, the elderly, and the sick.
---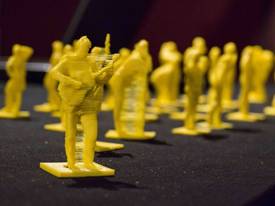 Barcelona's Blablablab set up a "Be Your Own Souvenir installation that used a Kinect and a 3D printer to allow passersby to pose for on-demand action-figures of themselves and their night out on the town: "The project uses custom software developed using openKinect and openFrameworks.