Kindle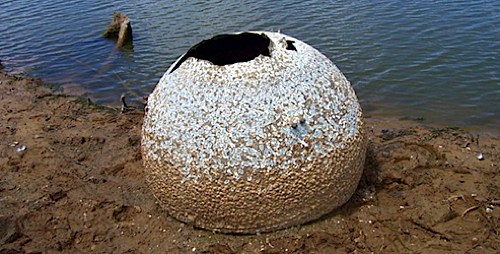 There's a major, ongoing drought in Texas, Oklahoma, and southern Kansas. As of July 26th, Amarillo had clocked in a record-breaking 30 days of 100+-degree temperatures. Wichita Falls, Texas, is on a (so far) 50-day streak with no precipitation. (If the trend continues to August 8th, as is predicted, it'll break into Wichita Falls' list of top 10 runs of precipitation-free days.)
All of that means lower water levels in local lakes. And, in Nacogdoches, the exposed lakebed revealed something very interesting—a part of the space shuttle Columbia, lost when then that shuttle disintegrated upon reentry in 2003. At the Houston Chronicle website, Eric Berger explained that this sphere is actually a tank for holding the cryogenic hydrogen that was critical to generating electricity via chemical reactions in the shuttle's fuel cell power plants.
NASA has reminded Texans that even though eight years have passed this, and any other shuttle parts that might turn up, are government property. It's a crime to tamper with them or squirrel them away.
Maggie Koerth-Baker is the science editor at BoingBoing.net. She writes a monthly column for The New York Times Magazine and is the author of Before the Lights Go Out
, a book about electricity, infrastructure, and the future of energy. You can find Maggie on Twitter and Facebook.
Maggie goes places and talks to people. Find out where she'll be speaking next.
More at Boing Boing