Kindle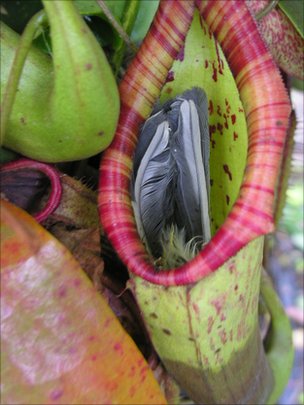 This is a photo of bird being eaten by a plant.
According to a story from the BBC, it's not unusual for a carnivorous pitcher plant, such as this one, to get its "hands" on a frog, a mouse, or even a rat. But poultry is a rare dish.
The plants kill by tricking prey into investigating the pitcher, usually by offering sweet nectar. Once part of the way into the pitcher, the prey finds it impossible to climb back out. Then it drowns. And then the plant slowly dissolves it—Saarlac-like—over a long period of time.
Maggie Koerth-Baker is the science editor at BoingBoing.net. She writes a monthly column for The New York Times Magazine and is the author of Before the Lights Go Out
, a book about electricity, infrastructure, and the future of energy. You can find Maggie on Twitter and Facebook.
Maggie goes places and talks to people. Find out where she'll be speaking next.
More at Boing Boing