Kindle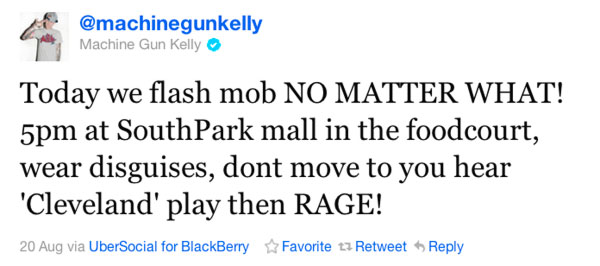 Via AP: Machine Gun Kelly, a rapper signed to Sean "Diddy" Combs' record label, has been arrested in Ohio on charges he invoked a fan flash-mob at a suburban shopping mall via his Twitter account.
The local paper reports that Cleveland's mayor "recently vetoed an ordinance that would have criminalized some uses of social media and was aimed at curbing flash mobs." From Reuters:
The 21-year-old rapper, whose real name is Richard C. Baker, and two others who failed to comply were removed from the mall, police said. They were charged with misdemeanor disorderly conduct and released. Video footage posted online shows the event drew a large crowd. Some chanted "MGK! MGK!" as the heavily tattooed rapper tussled with officers.

"If havin fun with my fans and bringin the rage back to my hometown means I have to be arrested...then keep pullin the cuffs out," read a message posted on the rapper's Twitter account.
Video Link, below: "MGK"'s official video of the shopping mall takeover.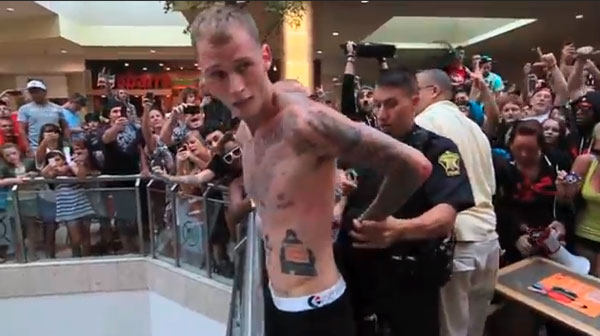 Boing Boing editor/partner and tech culture journalist Xeni Jardin hosts and produces Boing Boing's in-flight TV channel on Virgin America airlines (#10 on the dial), and writes about living with breast cancer. Diagnosed in 2011. @xeni on Twitter. email: xeni@boingboing.net.
More at Boing Boing