Kindle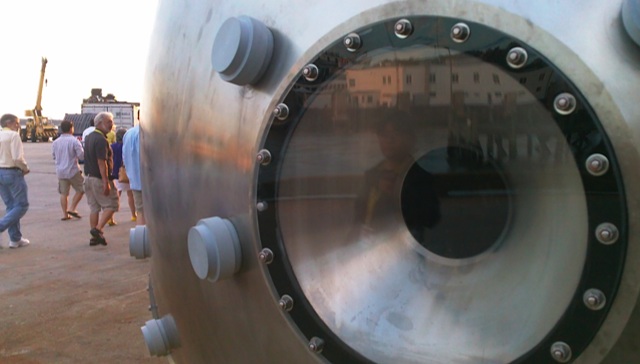 I've been traveling for the last couple of weeks. One key stop: Woods Hole, Mass., where I got up close and personal with everybody's favorite research submarine. Originally commissioned in 1964, Alvin is currently disassembled as part of a regular maintenance inspection and overhaul. I got to go behind-the-scenes to check out Alvin and the RV Oceanus—a research ship also operated by the Woods Hole Oceanographic Institute. This is a window on Alvin's old manned pod, a massive sphere that can hold two scientists. It's being replaced in the current retrofit, and this sphere will go to the Smithsonian. More photos to come ...
Maggie Koerth-Baker is the science editor at BoingBoing.net. She writes a monthly column for The New York Times Magazine and is the author of Before the Lights Go Out
, a book about electricity, infrastructure, and the future of energy. You can find Maggie on Twitter and Facebook.
Maggie goes places and talks to people. Find out where she'll be speaking next.
More at Boing Boing