Kindle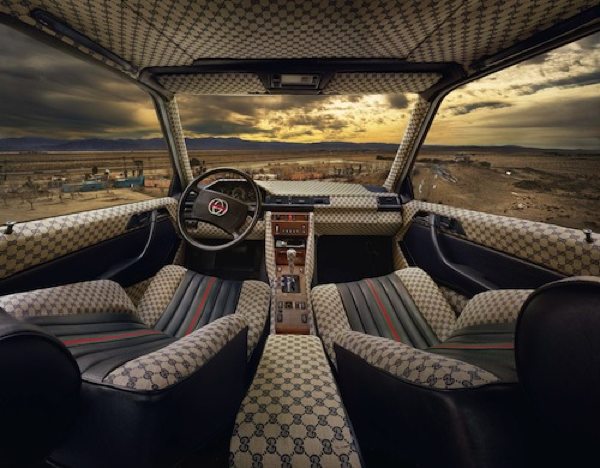 Photographer Luis Gispert's new NYC gallery show, titled "Decepcion," features shots of fancy cars blinged out in aftermarket, knock-off Louis Vuitton, Burberry, and Gucci interiors. Above, "Gucci Gloom" (2011). Below, ""LV Escalade" (2011). From Mary Boone Gallery:
Embedded within the world of car enthusiasts customizing vehicle interiors with designer themes: a satellite world of designer imitations in service to those in need of color coordinated designer brand fabric and logos. A micro-economy consisting of dresses, shoes, and bedrooms designed and customized to personal taste and aesthetics. Women running underground counterfeit designer dress shops out of their garages. Men outfitting anything from Timberland boots and backpacks with designer accents to custom leather apparel. In a dizzying conflation of class, aspiration, and travesty, these anonymous creators appeared to relish the bastardization of cultural symbols of wealth.
Luis Gispert's Decepcion
(Mary Boone Gallery)
"WORD UP! - Logo Lovers" (Paper)
David Pescovitz is Boing Boing's co-editor/managing partner. He's also a research director at Institute for the Future. On Instagram, he's @pesco.
More at Boing Boing