Kindle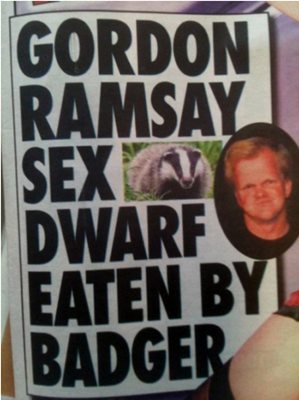 A coup of tabloid headline writing, from the UK rag The Sunday Sport. The backstory, from BuzzFeed:
Percy Foster was a 3-foot-6-inch dwarf who starred in the UK porno "Hi-Ho Hi-Ho, It's Up Your Arse We Go." He bore an uncanny resemblance to celebrity chef Gordon Ramsay. Welsh agriculture officials discovered Foster's body in an underground chamber…
"
The Most Epic Tabloid Headline Of All Time
"
David Pescovitz is Boing Boing's co-editor/managing partner. He's also a research director at Institute for the Future. On Instagram, he's @pesco.
More at Boing Boing