Kindle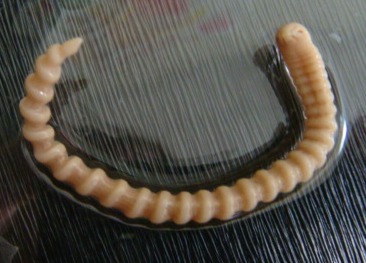 At the Thoughtomics blog, Lucas Brouwers has a really nifty post on a recent discovery about the biology of pentastomes. What's a pentastome? Oh, I am SO glad that you asked.
Every animal has its own parasites to worry about, but canivorous reptiles and amphibians have to deal with particularly gruesome ones. They can become infected with small, worm-like creatures called pentastomes that live inside their lungs, where they suck blood from ruptured blood vessels. Reptiles pick up the parasite when they eat infected prey.

Pentastomes are true escape artists. Once they realize they've entered a reptile stomach, they use their sharp hooks to claw themselves a way to the victim's lungs. In an experiment where pentastomes were implanted in a gecko's stomach, the parasites invaded the lungs in as little as four hours.
Fun!
BTW: The image above, of a pentastome called Kiricephalus coarctatus, comes from a student page on the life and pests of the Western Cottonmouth snake. It's worth poking around that site, too.
Maggie Koerth-Baker is the science editor at BoingBoing.net. She writes a monthly column for The New York Times Magazine and is the author of Before the Lights Go Out
, a book about electricity, infrastructure, and the future of energy. You can find Maggie on Twitter and Facebook.
Maggie goes places and talks to people. Find out where she'll be speaking next.
More at Boing Boing