Kindle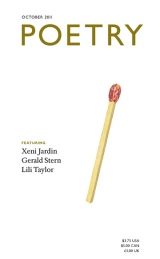 The editors of Poetry magazine invited me to contribute a piece for the October issue.
It is here: "Everything Moves to Live."
This Poetry podcast episode includes a conversation between me and the magazine's editors about Éluard, Godard, mainframes, and "found poetry" online. Audio: MP3 Link.
My essay references this clip from Jean-Luc Godard's Alphaville.
Incidentally, I'm told that there will be a new Criterion release, and a new theatrical release, of this great film in 2012.
Boing Boing editor/partner and tech culture journalist Xeni Jardin hosts and produces Boing Boing's in-flight TV channel on Virgin America airlines (#10 on the dial), and writes about living with breast cancer. Diagnosed in 2011. @xeni on Twitter. email: xeni@boingboing.net.
More at Boing Boing