Kindle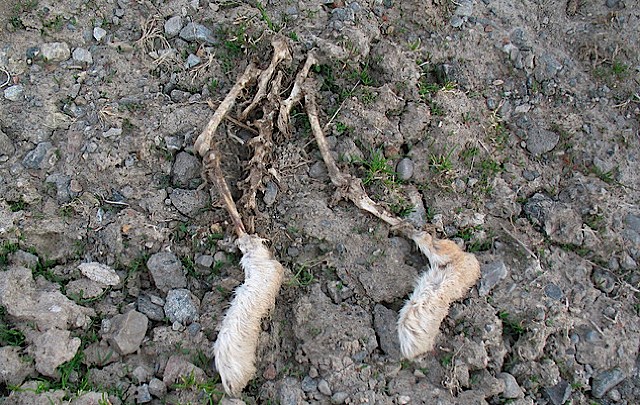 At Anthropology in Practice, Krystal D'Costa looks at the cultural history of the rabbit's foot as a good luck charm, and attempts to figure out why bunny feet ended up being imbued with such significance. After all, owning that foot didn't turn out to be particularly lucky for the rabbit. But then, that may be part of the point.
It's an interesting article, and D'Costa finds connections to both European hedge-witchery and African-American trickster legends. But one idea that was particularly engaging to me: The "luck" of the rabbit's foot might come from procuring it in the most "unlucky" way possible. The foot becomes a paradoxical totem—an object so damn unlucky that it's back around to being lucky again. In other words, people thought rabbit's feet were lucky for the same reason we think little, gremlin-looking pug dogs are cute.
Folklorist Bill Ellis traces the lore of the rabbit's foot to an interesting thread of subversion evident in the ways these tokens were certified—the process by which they were created determined the effectiveness of the charms. For example, one advertisement read, "the left hind foot of a rabbit killed in a country churchyard at midnight, during the dark of the moon, on Friday the 13th of the month, by a cross-eyed, left handed, red-headed, bow-legged Negro riding a white horse."

Ellis labels these descriptive terms as "backward elements"—that is, they run counter to positive, fortuitous signs: the rear and left side is the "sinister side," red hair and physical deformities were regarded as unlucky, the dark of the moon and Friday the 13th are both regarded as sinister times, and albino mules or horses were regarded as unlucky.
Image: Unlucky Rabbit's Feet, a Creative Commons Attribution (2.0) image from jbcurio's photostream
Maggie Koerth-Baker is the science editor at BoingBoing.net. She writes a monthly column for The New York Times Magazine and is the author of Before the Lights Go Out
, a book about electricity, infrastructure, and the future of energy. You can find Maggie on Twitter and Facebook.
Maggie goes places and talks to people. Find out where she'll be speaking next.
More at Boing Boing