Kindle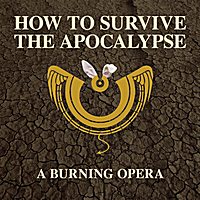 A couple years ago, I posted that BB pal Erik Davis, author of Techgnosis and Visionary State, wrote the libretto for a critically-acclaimed rock opera about Burning Man. How to Survive the Apocalypse: A Burning Opera returns to Los Angeles on November 20 while Reno and Vegas (!) staging are in the works! Erik informs us that CDs are also available of all the music available as MP3s and a CD for sales at CDBaby. I like how on CDBaby, it says that the soundtrack is recommended if you like Rocky Horror Picture Show, Hair, and Jesus Christ Superstar! Git yer freak on!
A Burning Opera: "CDs are Done; Shows Coming in LA, Reno & Vegas!"
David Pescovitz is Boing Boing's co-editor/managing partner. He's also a research director at Institute for the Future. On Instagram, he's @pesco.
More at Boing Boing