Kindle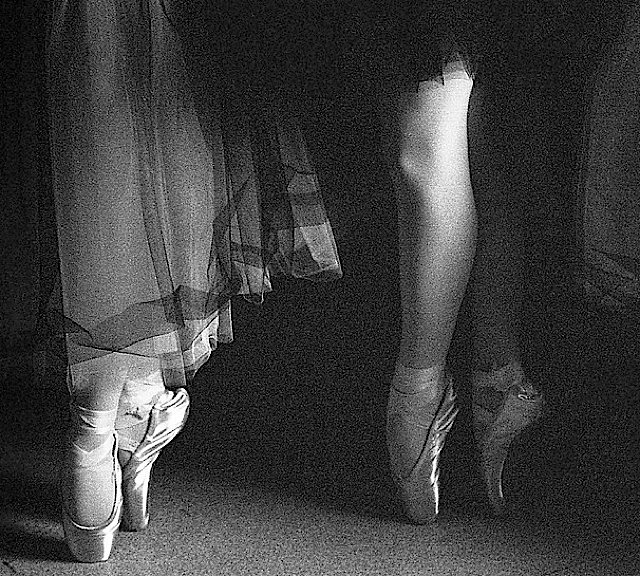 At the Atlantic, science historian Suzanne Fischer has a really interesting post up about the development of pointe shoes. In the early 20th century, at a time when all sorts of technologies were remaking the way people lived, worked, and played, pointe shoes were doing the same thing for ballerinas.
In particular, Fischer writes, pointe shoes were almost the dance equivalent of Henry Ford's assembly line—they standardized bodies and turned dancers into a sleek, modern commodity.
... the new shoes forced dancers' bodies to move in new ways. Dancers on this pointe regimen developed characteristically long, lean leg muscles. Balanchine also encouraged dancers to let the shoes remake their bodies, including developing bunions that gave the foot just the right line. And as their bodies were remade, dancers became "like IBM machines," modern and indistinguishable. This had consequences for labor, too. For one, stars became a less central feature of dance companies as dancers became more interchangeable, and second, dancers came to spend hours working on their shoes -- altering, gluing, and caring for them. In fact, in 1980 dancers threatened to strike -- not over hours or pay, but for better pointe shoes, and better management of them.
Via Alexis Madrigal
Image: get the pointe III, a Creative Commons Attribution No-Derivative-Works (2.0) image from chrishaysphotography's photostream
Maggie Koerth-Baker is the science editor at BoingBoing.net. She writes a monthly column for The New York Times Magazine and is the author of Before the Lights Go Out
, a book about electricity, infrastructure, and the future of energy. You can find Maggie on Twitter and Facebook.
Maggie goes places and talks to people. Find out where she'll be speaking next.
More at Boing Boing