Kindle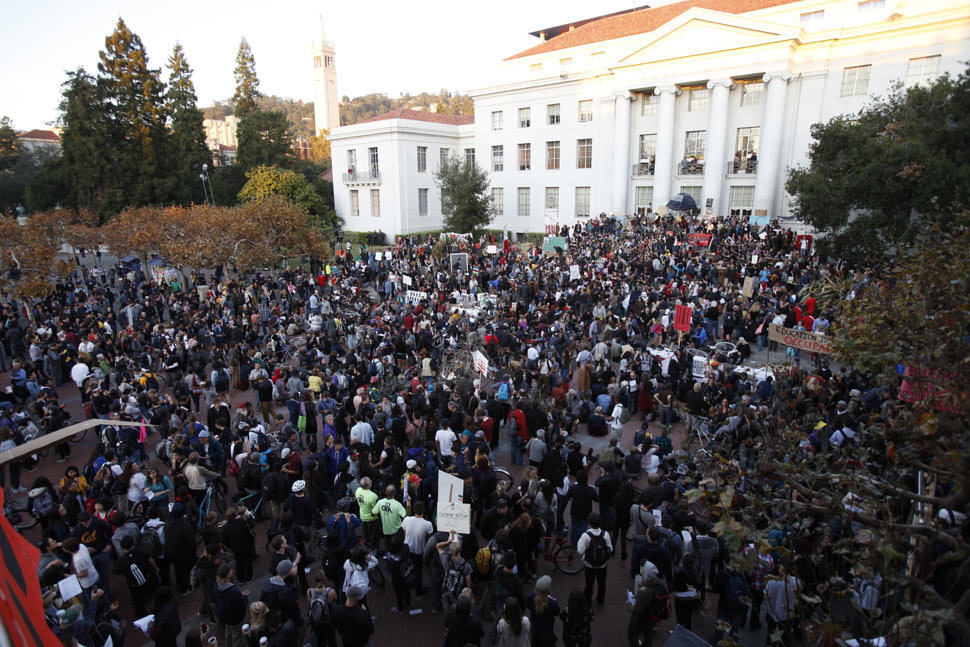 University of California, Berkeley poetry professor and former US poet laureate Robert Hass writes in the New York Times, on what transpired when he wandered down to the Occupy with his wife, to see for himself if reports of police brutality against student protesters were really true:
[UC Berkeley] is also the place where students almost 50 years ago touched off the Free Speech Movement, which transformed the life of American universities by guaranteeing students freedom of speech and self-governance. The steps are named for Mario Savio, the eloquent undergraduate student who was the symbolic face of the movement. There is even a Free Speech Movement Cafe on campus where some of Mr. Savio's words are prominently displayed: "There is a time ... when the operation of the machine becomes so odious, makes you so sick at heart, that you can't take part. You can't even passively take part." 

Earlier that day a colleague had written to say that the campus police had moved in to take down the Occupy tents and that students had been "beaten viciously." I didn't believe it. In broad daylight? And without provocation? So when we heard that the police had returned, my wife, Brenda Hillman, and I hurried to the campus. I wanted to see what was going to happen and how the police behaved, and how the students behaved. If there was trouble, we wanted to be there to do what we could to protect the students.

Once the cordon formed, the deputy sheriffs pointed their truncheons toward the crowd. It looked like the oldest of military maneuvers, a phalanx out of the Trojan War, but with billy clubs instead of spears. The students were wearing scarves for the first time that year, their cheeks rosy with the first bite of real cold after the long Californian Indian summer. The billy clubs were about the size of a boy's Little League baseball bat. My wife was speaking to the young deputies about the importance of nonviolence and explaining why they should be at home reading to their children, when one of the deputies reached out, shoved my wife in the chest and knocked her down.
PHOTO: Occupy Cal demonstrators gather in Sproul Plaza at the University of California, Berkeley November 15, 2011. Throngs of anti-Wall Street protesters converged on the University of California at Berkeley on this day, vowing to set up a tent camp in defiance of campus rules a day after police dismantled a long-standing encampment in nearby Oakland. (REUTERS/Stephen Lam)
Boing Boing editor/partner and tech culture journalist Xeni Jardin hosts and produces Boing Boing's in-flight TV channel on Virgin America airlines (#10 on the dial), and writes about living with breast cancer. Diagnosed in 2011. @xeni on Twitter. email: xeni@boingboing.net.
More at Boing Boing