Kindle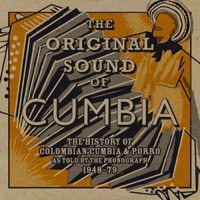 The excellent Soundway Records label continues its musical exploration of Colombia with another huge compilation, The Original Sound of Cumbia. To promote the release, they've created a really fantastic interactive "Musical Map of Colombia." Browsing the map is a fascinating experience whether or not you intend to buy the new compilation. That said, I'd wager that after a few minutes playing with the map, you'll be inclined to own some of this music. It's available on CD but I'm inclined to go for the two volume, triple (!) vinyl with free MP3 download once it's in-stock at the US distributor Forced Exposure.

CD: "The Original Sound of Cumbia (The History of Colombian Cumbia & Porro As Told By The Phonograph 1948-79)" (Forced Exposure)
David Pescovitz is Boing Boing's co-editor/managing partner. He's also a research director at Institute for the Future. On Instagram, he's @pesco.
More at Boing Boing