Kindle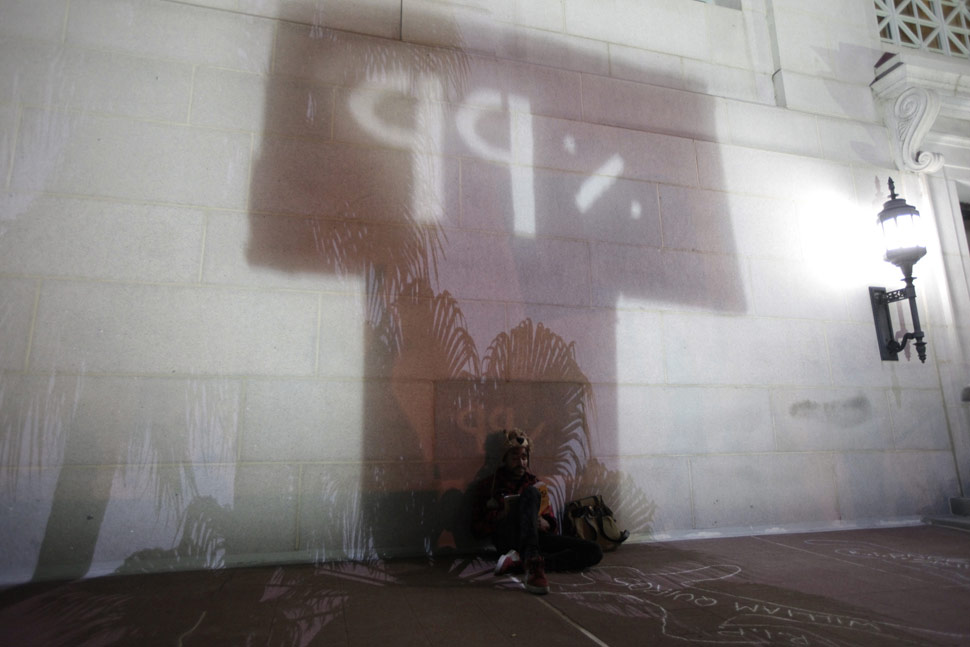 A man leans against the wall of City Hall at the Occupy LA encampment after the 12.01am eviction deadline in Los Angeles (Reuters)
I joined The Madeleine Brand Show today to talk about independent live-streaming backpack journalists covering Occupy Wall Street. What gear are they using, how and why are they doing what they do, and how is this changing how we get coverage of the Occupy movement?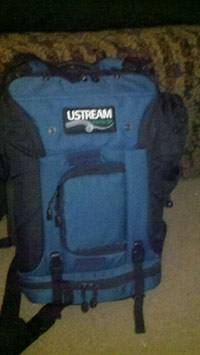 Listen here [direct MP3 Link].
We spoke about three of them in particular: Tim Pool of "The other 99%," the 25-year old Chicago native I interviewed for Boing Boing; @punkboyinsf (J'Tao), 36, who generally covers Occupy SF, and @oakfosho (Spencer Mills), who generally covers Occupy Oakland. All of them have an abundance of passion and talent; but none of them seem to have any dough.
Both @punkboyinsf and @oakfosho are in Los Angeles right now, covering the Occupy LA story as the encampment there faces likely LAPD eviction.
LA mayor Antonio Villaraigosa imposed a Sunday night deadline on the OWS activists' camp in downtown LA, but so far, police have allowed the protesters to remain, while local authorities fight it out in the courts against those who believe the occupiers should be allowed to stay where they are.
Here are their streams:
• @theother99 (Gear: mostly a Samsung GALAXY S II and an Energizer XPAL 18000, more here).
• @oakfosho (Uses a LiveU backpack loaned/donated by Ustream, shown in the photo above).
• @punkboyinsf (HTC Thunderbolt + Ustream's mobile app).
A little footnote: @punkboyinsf, aka J'Tao, has been doing this sort of thing for a while. Here's an archived Geocities page from the '90s, when he was covering the Seattle WTO protests.
And below, here's an interview with @oakfosho by Janko Roettgers of Gigaom.
Boing Boing editor/partner and tech culture journalist Xeni Jardin hosts and produces Boing Boing's in-flight TV channel on Virgin America airlines (#10 on the dial), and writes about living with breast cancer. Diagnosed in 2011. @xeni on Twitter. email: xeni@boingboing.net.
More at Boing Boing