Kindle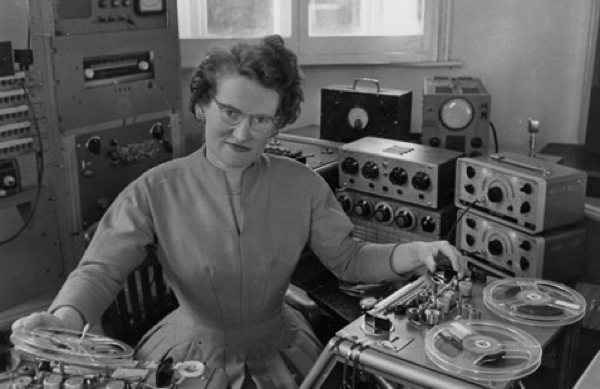 Daphne Oram (1925-2003) was a pioneering electronic musician and sound engineer at the famed BBC Radiophonic Workshop. I've posted previously (link, link) about her amazing creativity and invention of Oramics, an electronic musical instrument based on converting drawings on 35mm film into sound textures. The Young Americans label has just issued a luxurious 4 LP vinyl collection drawn from Oram's massive sound archives. "The Daphne Oram Tapes" includes 46 tracks, a total of 2.5 hours of previously unreleased material. And this is just volume one! From the album description:
"'The Daphne Oram Tapes: Volume One' is the result of almost two years spent trawling through the archive in an attempt to piece together a coherent document of one of the most pioneering and genuinely experimental characters in electronic music history. Although some of Oram's recordings have surfaced on the 'Oramics' compilation, this set reveals a much more complex, dark, sometimes disturbing and often beautiful body of work which has, until now, been partially obscured by the more recognizable Radiophonic bleeps and whirrs the Workshop is best known for. This first volume focuses on Oram's love of experimental forms, of Musique Concrète, of the science and mystery of sound and composition. It comes at a time when her work is only just starting to gain wider acknowledgment in scholarly as well as popular circles. The 'Oramics' machine (the first electronic musical instrument in history to be designed and built by a woman) has gone on display at the Science Museum in London, an important step in what will no doubt be a sustained effort to assert Oram's rightful position as one of the most important figures in modern music. Working through the archive has been a life changing experience, revealing a wealth of musical treasures that include recordings and sound effects made for '2001' and Jack Clayton's 'the Innocents', all the way through to field recordings made in Africa."
You can purchase it from Amazon in the US and Boomkat in the UK
David Pescovitz is Boing Boing's co-editor/managing partner. He's also a research director at Institute for the Future. On Instagram, he's @pesco.
More at Boing Boing