Kindle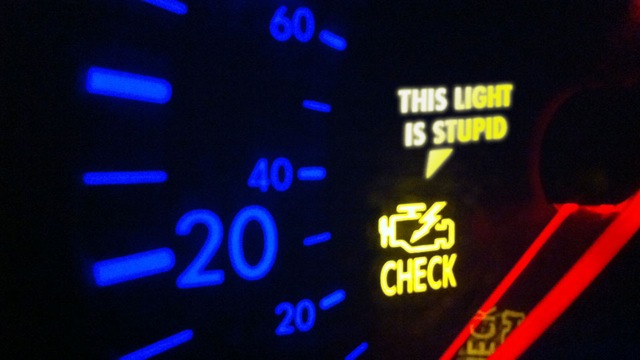 "Check engine" lights suck! Jason Torchinsky of Jalopnik asks you to sign a whitehouse.gov petition to "require automakers to replace the nearly useless Check Engine Light with a display that actually explains what's wrong."
The continued use of a generic, uninformative "check engine" light in cars keeps car owners in the dark about the condition of their vehicle, and ensures they stay dependent and subordinate to car dealers and mechanics. The frustrating thing is it doesn't have to be that way.

Let's look at exactly what the "check engine" light does in a car, and how it works. To understand it, first we need to understand what On Board Diagnostics (OBD) are — I know for many Jalops this is review, but bear with me.

Every car sold today has an on-board computer system that monitors many, many sensors and conditions in a car's drivetrain, and reports back when there is an error. This has its roots, of all places, in the 1969 Volkswagen Type III, one of the first cars with electronic fuel injection. The "electronic" part of that meant that there was a crude computer brain that managed the system, and could scan for error conditions. Other manufacturers soon had their own systems, and by 1996 an actual, standardized system, called OBD-II, was developed and mandated by law for inclusion in all cars sold in the USA.

OBD-II is actually a terrific system. A global standard for helping to diagnose car issues, with standard connectors and error codes? What's not to like?

What's not to like is that when something goes wrong, all the average motorist sees is that little drawing of an engine bisected by a lightning bolt. And all that tells them is basically nothing. The "check engine" light is the MIL (Malfunction Indicator Light) of the OBD-II system, and illuminates whenever a fault is detected. To see exactly what sort of fault takes a "special scanner" that plugs into the OBD-II connector. These scanners are almost always owned by mechanics or dealers. Independent people can buy scanners as well, or cables to connect laptops, smart phones, etc., but people who will do that are not the ones who need to worry about the check engine lights.
Why The 'Check Engine' Light Must Be Banned