Kindle

No Good Deed is a new multimedia play in Los Angeles that melds a graphic novel with live theater. Created by the edgy, experimental Furious Theatre Company -- including my brother Robert Pescovitz -- No Good Deed is a classic, dark superhero story of good and evil injected with the cultural criticism that is Furious' modus operandi. The live production, written by Matt Pelfrey and directed by Dámaso Rodriguez, employs projected illustrations, intense fight choreography, and compelling characters to immerse the viewer in the action. And if you're thinking that sounds like Broadway's Spider-Man: Turn Off The Dark, here's what industry mag TalkinBroadway wrote, "I want to hold this production up to the producers of Spider-Man: Turn Off The Dark and say, 'This is how you put a graphic novel on stage." No Good Deed is actually the first story in an ongoing narrative that continues with Hellbound Heroes, a print comic with art by Ben Matsuya. You can grab a copy by donating $5 to Furious Theatre. The play runs until February 26 and Furious has kindly offered Boing Boing a discount code to save $5 on admission. Just enter BoingBoing as the coupon code when you purchase tickets here!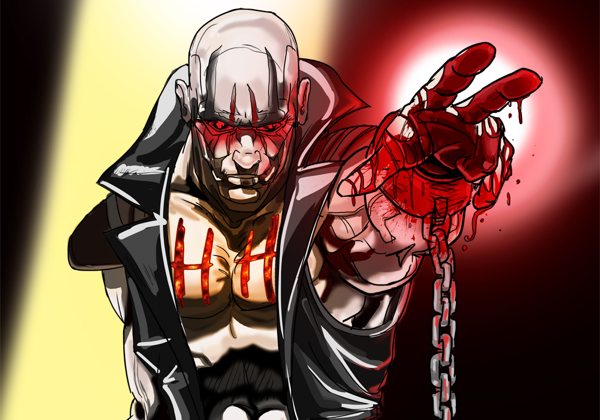 This is what LAist had to say about No Good Deed:
Nick Cernoch leads the cast as Josh Jaxon, a conflicted and abused high-school student that must deal with a major change in his social status. As both a hero and antihero, Cernoch easily makes a bold transition feel natural. He guides Jaxon away from an appropriately subdued modality as a bullied kid to an energized, engaging and exciting alter-ego realized through a drug-induced multi-dimensional fantasy.

Shawn Lee and Troy Metcalf play Jaxon's "fucking-with-crime" sidekicks Bryant Feld and Danny Diamond. As Feld, Lee is a charismatic and commanding actor that often drives pulsed tension on stage. Metcalf renders Diamond as a sympathy-drawing underling, beautifully executing Diamond's most tragic scene and delivering the best performance of the show. Finally, Robert Pescovitz renders the role of Jaxon's frightening step-father with impressive authenticity.

The complex staging of No Good Deed must be a nightmare to direct, but Damaso Rodriguez smoothly orchestrates the entire production with raw grace and a little kitsch. In fact, Rodriguez has crafted an indie-version of Broadway's Spiderman, minus all of the Spiderman failures, of course. Brian Danner's fight choreography is perfectly executed, conceptualized and is a huge audience draw. Scenic design of John Icovelli, costuming by Christy Hauptman, graphic design of Ben Matsuya and original music composition of Doug Newell contribute tremendously in capturing the essence of a great comic book.

Furious Theatre Company presents No Good Deed



David Pescovitz is Boing Boing's co-editor/managing partner. He's also a research director at Institute for the Future. On Instagram, he's @pesco.
More at Boing Boing