Kindle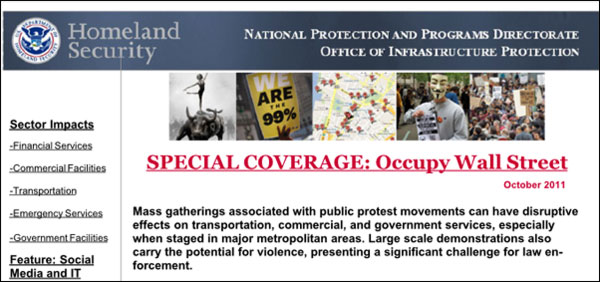 An October, 2011 Department of Homeland Security memo on Occupy Wall Street warned of the potential for violence posed by the "leaderless resistance movement." (via @producermatthew).
Update: Looks like there's a larger Rolling Stone feature on this document:
As Occupy Wall Street spread across the nation last fall, sparking protests in more than 70 cities, the Department of Homeland Security began keeping tabs on the movement. An internal DHS report entitled "SPECIAL COVERAGE: Occupy Wall Street [PDF]," dated October of last year, opens with the observation that "mass gatherings associated with public protest movements can have disruptive effects on transportation, commercial, and government services, especially when staged in major metropolitan areas." While acknowledging the overwhelmingly peaceful nature of OWS, the report notes darkly that "large scale demonstrations also carry the potential for violence, presenting a significant challenge for law enforcement."
Boing Boing editor/partner and tech culture journalist Xeni Jardin hosts and produces Boing Boing's in-flight TV channel on Virgin America airlines (#10 on the dial), and writes about living with breast cancer. Diagnosed in 2011. @xeni on Twitter. email: xeni@boingboing.net.
More at Boing Boing