Kindle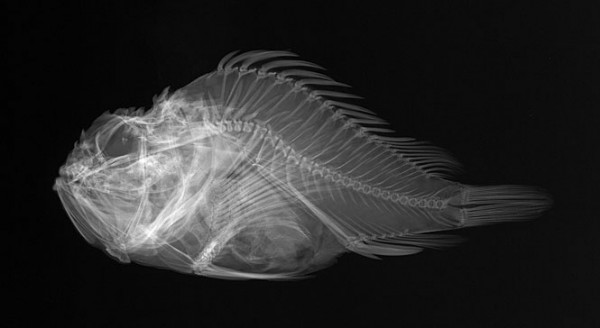 The Smithsonian National Museum of Natural History has a new exhibit up dedicated to x-ray portraiture of fish. All the shots were taken by Sandra Raredon, a museum specialist in the Division of Fishes (which is kind of a wonderful title, yes?)
I dig this because, on verbal description, this sounds rather dull. X-rays of fishes. Great. But when you actually see the images you remember two very important facts: First, fishes have tons of little, teeny bones packed into a relatively small body; Second, fishes come in a wide variety of frequently crazy shapes. That all adds up to fish x-rays being way more interesting than you might initially guess.
Take the scorpionfish. In real life, this family tends to look a bit like a bunch of Muppet trolls—runaway cast members from "Labyrinth" or something. In x-ray, you can see past the wild colors and stubbly, camouflage skin to spot the spines these fish use for delivering a numbing, toxic poison.
Check out all the fish x-rays at the Encyclopedia of Life.
Maggie Koerth-Baker is the science editor at BoingBoing.net. She writes a monthly column for The New York Times Magazine and is the author of Before the Lights Go Out
, a book about electricity, infrastructure, and the future of energy. You can find Maggie on Twitter and Facebook.
Maggie goes places and talks to people. Find out where she'll be speaking next.
More at Boing Boing