Kindle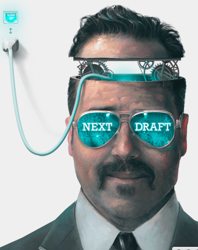 You're probably familiar with Dave Pell's excellent Tweetage Wasteland essays about online culture that appear with some frequency at Gizmodo, NPR, and his own site. Dave recently started a terrific daily email newsletter called NextDraft, a roundup of news links (far beyond just tech) that strike him as curious, important, or freaky. As a diehard news addict, Dave has a very Boing Boingy curatorial eye and mind. And thankfully his writing is witty without being snarky. NextDraft is more proof for me that there's still a bright future for smart, pithy email newsletters with a distinct voice. Here are just a few bits from today's NextDraft:
* Many worried that the digital writing on the wall spelled doom for the book industry. Well, it turns out that some of us are actually reading more now than we did in the past. That's certainly true for the 21% of Americans who have read an e-book in the past year. According to the latest numbers from Pew, those who consume books digitally are among the most voracious readers, read more now than they did before, and still read printed books as well

* Eighteen years after his death, The Hollywood Reporter looks at Kurt Cobain by the numbers. + Please observe a moment of loudness for Jim Marshall. The "Father of Loud" and man behind the Marshall Amp has died at 88.

* If you buy a hybrid, how long will it take before your gas savings equal the extra dough you paid for the car? It can be more than a decade.
NextDraft: The Day's Most Fascinating News by Dave Pell
David Pescovitz is Boing Boing's co-editor/managing partner. He's also a research director at Institute for the Future. On Instagram, he's @pesco.
More at Boing Boing