Kindle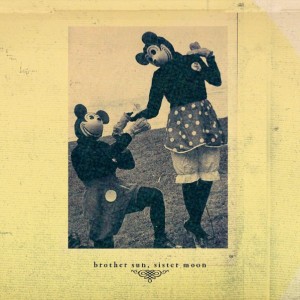 Brother Sun, Sister Moon is a hazy, droney, dreamy collaboration between New Zealand vocalist Alicia Merz (Birds of Passage) and instrumentalist/beat maestro Gareth Munday (Roof Light). Lovely low-fi, cross-genre lullabies. It's $6 for the digital album or around $12 for a cassette that also includes a digital download. Vinyl also available from Denovali Mailorder. From the project description:
The self-titled album is a trip through sun-dappled pop music, glistening with Alicia's vibrant vocals reminiscent of Vashti Bunyan and neatly complimented by a haze of lo-fi instrumentation akin to the distorted experimentation of SLOWDIVE and MY BLOODY VALENTINE. Unafraid to extend their musical reach beyond this, the record ventures into the futuristic beat world channeling influences such as FLYING LOTUS and MADLIB, while traversing vast technicolour electronic sounds that call to mind BOARDS OF CANADA and the ambient tape manipulation of Matthew David.
"Brother Sun, Sister Moon" (via OMG Vinyl)
David Pescovitz is Boing Boing's co-editor/managing partner. He's also a research director at Institute for the Future. On Instagram, he's @pesco.
More at Boing Boing