Kindle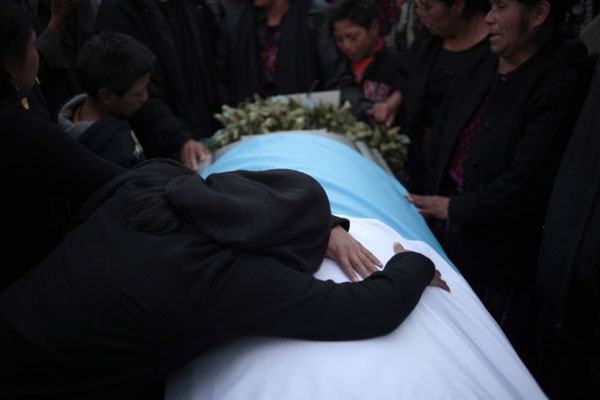 In a piece for AP, Romina Ruiz-Goiriena reports from Guatemala City on signs that two of the most powerful and brutal organized crime groups in Latin America, the Maras and the Zetas, may be joining forces.
"A formal, durable alliance with the Maras could bring the Zetas thousands of new foot soldiers, extending the cartel's reach into the cities of Guatemala, and, potentially, other countries in Central America where the Maras maintain a grip on urban slums."
As Cory noted in a previous BB post, the upcoming Summit of the Americas in Cartagena, which will be attended by many latinamerican heads of state as well as Barack Obama, is expected to be the site of "an historic debate over the legalization of drugs and the end of the war on drugs."
(via Daniel Hernandez)
Photo: A relative of Jose Yovanny Bocel Conoz, a Guatemalan immigrant whose body was found in a mass grave in Tamaulipas in northern Mexico, mourns over his coffin at the air force base of Guatemala City March 21, 2012. The bodies of 11 Guatemalans, who were among a group of 193 immigrants believed to be killed by members of the Zetas drug gang and whose bodies were found in a mass grave in Tamaulipas in April 2011, were repatriated to Guatemala after DNA tests confirmed their identities. REUTERS/Jorge Dan Lopez.
Boing Boing editor/partner and tech culture journalist Xeni Jardin hosts and produces Boing Boing's in-flight TV channel on Virgin America airlines (#10 on the dial), and writes about living with breast cancer. Diagnosed in 2011. @xeni on Twitter. email: xeni@boingboing.net.
More at Boing Boing