Kindle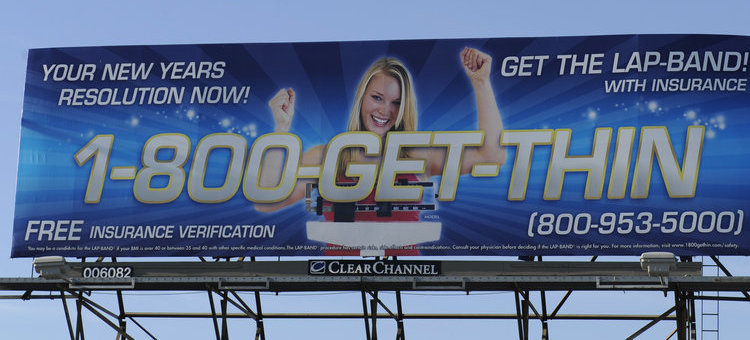 Billboards for weight loss surgery provider "1-800-GET THIN" were ubiquitous around LA freeways until recently; the company has since come under scrutiny by the FDA, consumer affairs watchdogs and Consumer Reports for sketchy business practices. Now, the Los Angeles Police Department is investigating the firm over the recent death of a patient. Snip from LA Times report:
In a civil lawsuit, two former surgery center workers alleged that a series of medical gaffes contributed to [55 year old patient Paula] Rojeski's death. That lawsuit, filed in January, said an intravenous line was not properly inserted into Rojeski's arm during surgery, causing solution to pool on the floor of the operating room. Former surgical technicians Dyanne Deuel and Karla Osorio also said in the lawsuit that the anesthesiologist forgot to turn on the oxygen tank before surgery.
The LA Times report goes on to list four additional patient deaths. (photo: LA Times)
Boing Boing editor/partner and tech culture journalist Xeni Jardin hosts and produces Boing Boing's in-flight TV channel on Virgin America airlines (#10 on the dial), and writes about living with breast cancer. Diagnosed in 2011. @xeni on Twitter. email: xeni@boingboing.net.
More at Boing Boing