Kindle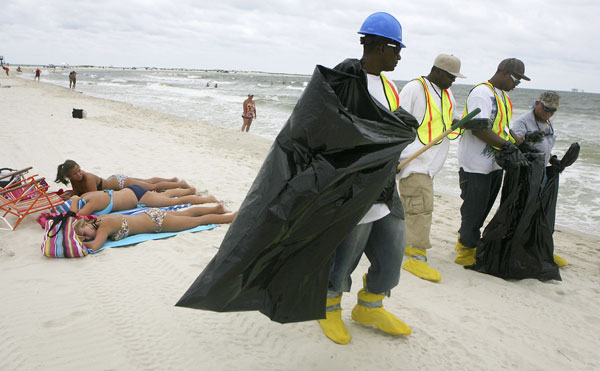 Clean up crews walk past beachgoers as they look for globs of oil on Dolphin Island, Alabama June 4, 2010. REUTERS/Sean Gardner
This Nation investigation into health problems caused by the BP oil disaster two years ago is a must-read. Reporter Antonia Juhasz chronicles the personal stories of families affected by lingering toxic crap—the oil, but also substances like Corexit, used to clean up the oil. Get ready to be newly outraged at our government, BP, and all the lawyers defending this disgrace while working-class Americans suffer and die from corporate recklessness and greed.
As information about the settlement negotiations comes to light, several critical issues are not being adequately addressed—including the human health crisis brought on by the disaster.

Many people whose health was adversely affected by the spill would be excluded. The Medical Benefits Settlement covers about 90,000 people who are qualifying cleanup workers (out of an estimated 140,000) and 110,000 coastal residents living within one-half to one mile of the coast (out of a coastal population of 21 million). Although it would cover "certain respiratory, gastrointestinal, eye, skin and neurophysiological" conditions, it excludes mental health and a host of physical ailments, including cancers, birth defects, developmental disorders and neurological disorders including dementia.

The proposed settlement provides a health outreach program and twenty-one years of health monitoring—but not healthcare.
The article also includes this link, on how to help.
Investigation: Two Years After the BP Spill, A Hidden Health Crisis Festers (The Nation, via Ned Sublette)
Boing Boing editor/partner and tech culture journalist Xeni Jardin hosts and produces Boing Boing's in-flight TV channel on Virgin America airlines (#10 on the dial), and writes about living with breast cancer. Diagnosed in 2011. @xeni on Twitter. email: xeni@boingboing.net.
More at Boing Boing