Kindle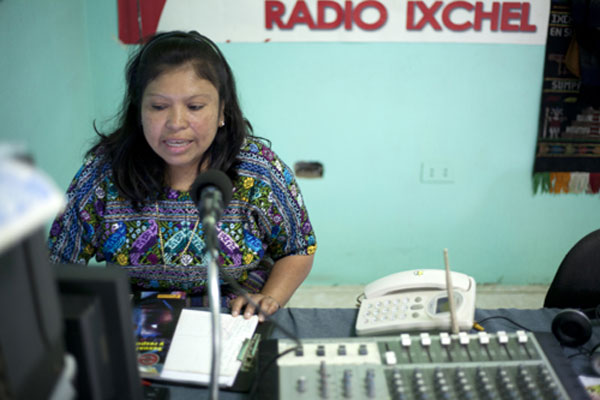 I missed this great read published a few months back by photojournalist Connor Boals in Columbia Journalism Review, but it's worth revisiting now: a story about the indigenous pirate radio stations that connect poor rural Mayan communities throughout Guatemala.
I've traveled in the region off and on for years, and am familiar with the sort of risks these operators face, and the benefit their efforts provide. Connor's story focuses on one station in the Kaqchikel Maya pueblo of Sumpango, in the central highlands. Here, Radio Ixchel (named after the jaguar goddess of midwifery and medicine) operates on the downlow. No sign on the door, housed in what looks like a home, with chickens and geese bustling around. That, for a reason: The Guatemalan government considers the project a criminal operation.
Snip:
Angélica Cubur Sul opens the door to the studio, clad in a traditional Mayan multicolored blouse. She's a "locutora" here at the station. You could call her a DJ, but she does much more. Inside, another woman runs the mixer as a Mayan herbalist provides instructions in Kaqchikel, the local dialect, on what local flora listeners can use to treat indigestion. The door is thin and the goose is still honking outside. Sul taps out a script on an ancient PC for her top-of-the-hour newscast.

Guatemala still bears scars from the civil war that gripped the country for more than thirty years, ending finally in 1996. The government mainly relied on terror to suppress indigenous populations from supporting the leftist guerrillas. The Guatemalan Archbishop's Office for Human Rights estimates that the Guatemalan military and paramilitary forces committed over 90 percent of the atrocities. Indigenous people were almost always the target. Mass graves are still being unearthed.

"Radio has been important in Guatemala for decades," says Mark Camp, director of the Guatemala Radio Project for Cultural Survival, a nonprofit that advocates on behalf of indigenous groups. "During the civil war, radio played a really important part for the guerrillas to get their message out to the people."
Read more: Pirate Radio, Mayan Style, and there are more wonderful photos at Connor's site. (CJR, via Renata Avila; photo by Connor Boals)
Boing Boing editor/partner and tech culture journalist Xeni Jardin hosts and produces Boing Boing's in-flight TV channel on Virgin America airlines (#10 on the dial), and writes about living with breast cancer. Diagnosed in 2011. @xeni on Twitter. email: xeni@boingboing.net.
More at Boing Boing