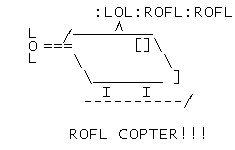 ROFLcon, the biennial extravaganza of deranged internet culture, takes place this weekend in Cambridge, Mass. The third such event, there'll be panels about memes, microfame, gaming and art, with a keynote speech from Jonathan Zittrain.
Attending will be Anil Dash, Andy Baio, Chris Poole, Nick Douglas, Joel Veitch, Chris Torres, Jason Scott, and many more. We will do our best to amuse one another, and you.
I'll be moderating a panel about the web of the 1990s, with Eric "conveys an emotion" Wu, Josh Levine of zombo.com, and Jonti "Weebl" Picking.
Here's the full schedule. Tickets to the two-day epic can be gotten for $55 and up. Don't fret if they're all sold out: there will be videos galore posted next week. Discuss
Next post