Spirit Level documentary needs your support
Katharine sez, "Dartmouth Films are working with the Equality Trust on a documentary film of 'The Spirit Level, which aims to take the message of
the book
-- that more equal societies are better for everyone -- out to a wider audience. With growing unease over the last year about tax avoidance & the social effects of inequality (and the success of movements such as Occupy and Uncut), the film hopes to put pressure on governments and political parties from all ends of the political spectrum to pursue fairer policies. The film's campaign is live for three more weeks only at
Indiegogo
, and you can support the project by pre-buying the film or following the film on
Twitter
."
Read more at Boing Boing
Read more at Boing Boing
Read more at Boing Boing
---
It seems that Burger King must have taken a very long position on pork futures, because they've rolled out a temporary Memphis Pulled Pork BBQ Sandwich, Carolina BBQ Whopper, Texas BBQ Whopper and a bacon sundae:
The AP reports that BK will launch the treat — which has fudge, caramel, crumbled bacon and a full piece of bacon — later this week, along with other limited time items.
---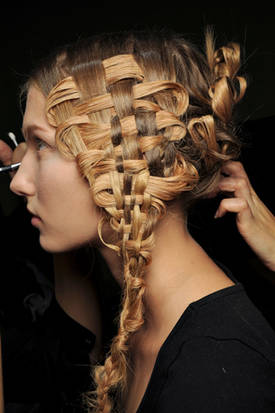 Here's a bizarre-but-striking couture moment: basket-woven hair.
"There were many permutations," Palau said to Style.com of the technique, "but in the end it was highly technical yet very simple." Palau divided models' hair into three sections before adding extensions over and under natural strands for a woven effect, ending each panel in a skinny braid.